Contact Edward Smillie on 01200 424578 or David Bristol on 01200 426272
Welcome to the Clitheroe Masonic Rooms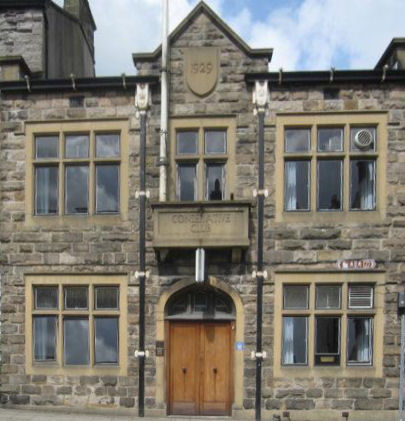 The Clitheroe Masonic Rooms are located within the Clitheroe Conservative Club which is located on Castle Street, Clitheroe, BB7 2BT. Telephone : 01200 422410.
Clitheroe has been synonymous with stone masons since Medieval times and townsfolk are reminded of that every day of the week as the Castle overshadows our streets.
Few people, however, will know that Freemasonry has been carried out in Clitheroe for almost 200 years. There are two lodges based in the town in rooms above the Conservative Club in Castle Street, opposite the Swan & Royal.
One of the most important aspects to modern Freemasonry is their charitable help for local societies and voluntary bodies. It is true the Masons look after their own but, according to their website (www.pglel.co.uk), Freemasons in England and Wales have given more to other charities than any charity with the exception of the National Lottery.
The Freemasons' Grand Charity makes donations to many Masonic and non-Masonic charities. In the last 30 years, it has given well over £100m to good causes including support for every hospice in the country and giving annual donations to local Air Ambulance centres (£1.3m since the start of the Millennium). It gives hundreds of thousands of pounds each year for disaster relief - often being the first to transmit funds via the Red Cross when there has been an emergency somewhere in the world, such as the Japanese tsunami, hurricane Katrina hitting New Orleans, floods in Wales in 2012 and in Cumbria in 2009 and 2005. Other projects the Grand Charity supports regularly in this country are vulnerable people and children's good causes, including youth opportunities as well as medical research (£1.6m to Cancer Research and £1m to Ovarian Cancer research since 2000).
Clitheroe has two lodges: the 190-year-old Limestone Rock Lodge and Keep Lodge, founded in 1947. They are part of a district, which also covers Accrington, Blackburn, Clayton-le-Moors and Darwen and is known as the East Ribble District. Together with Burnley and Pendle District, they make up the Northern Area, one of six areas which combine to make up the East Lancashire Province. Lancashire was split into East and West and these two are among the largest of the 47 Provinces which are controlled by the United Grand Lodge of England.
If you would like further details regarding either the Masonic Rooms or the Conservative Club then please call Edward Smillie. If you have an interest in Freemasonry in Clitheroe and it's surrounding area then please call David Bristol - phone numbers at the top of the page.